With the current crypto-everything hype, an immense appeal for websites related to the industry has occurred. At times it may seem like everyone is talking about Bitcoin and Altcoins and many others are expanding their businesses to start accepting cryptocurrency payments or provide trading and consulting services. If you want to create a website for the coin market, you will need a set of plugins for the WordPress cryptocurrency spectrum. Along with the themes and plugins, plenty of cryptocurrency website templates are available to cover an even broader specter of users. While some cryptocurrency WordPress themes have almost a lot of useful features and extensions, some of them really need improvement.
Top Cryptocurrency WordPress Plugins
Creating a website for the virtual currency industry is much easier than you might think. You can customize your cryptocurrency business game with the right tools, plugins, scripts, as well as themes and templates. So, in this post, you have a list of the best WordPress cryptocurrency plugins for your virtual currency industry. With these outstanding Cryptocurrency WordPress plugins, you can create a stunning WordPress website without any effort. Here we have compiled a collection of the best Cryptocurrency plugins for WordPress:
CoinTable

Coinbase

Cryptocurrency charts

Blockonomics

BitPay

Coingate

CoinPayments

CryptoWP

Premium Cryptocurrency Widgets

Fat Coincap

Tradex

Cryptoniq

Multi-Currency Crypto Wallet

Coin Market Cap Rankings

Coin Market Cap & Prices
Popular Cryptocurrency Plugins for WordPress Websites
So let us now take a closer look at each of the cryptocurrency plugins for WP websites:
CoinTable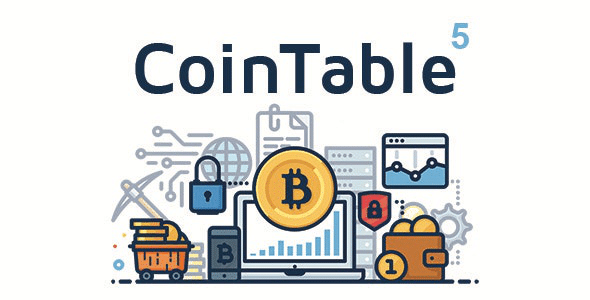 Coin Table is a content management system that is basically built to get real-time information about cryptocurrency. It basically supports thousands of currencies as well as all the information with automatic updates 24/7. The best part is that it won't need anything manually and it will let the coin table do all the work for you. Together with cryptocurrencies, Coin Table fully supports 156 other currencies, such as the dollar and euro.
It has its own admin panel, as there you can simply manage all the settings and create multiple admins/users. You will also get custom pages. This plugin has all Search Engine Optimisation implemented, and Meta, OpenGraph & Twitter options available for use. Moreover, you can share your social networks profiles with your visitors. It is simple, you can just add your profile for Facebook, Twitter, Linkedin, Google+, Youtube, Instagram, Pinterest, Tumblr, Reddit, Github, Skype, Telegram, Foursquare, and others.
Coinbase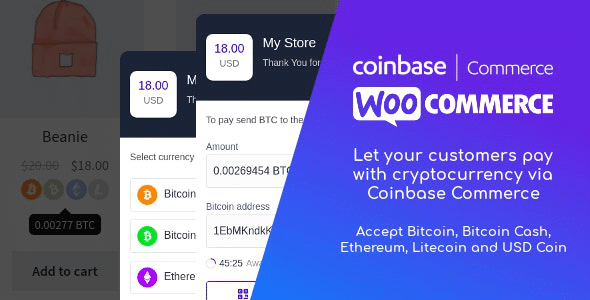 Coinbase is the most popular stock exchange in the world. It recently introduced the ability to make payments in Bitcoin and Litecoin via the Coinbase Commerce platform. At first glance, free transactions seem like a great idea, but their implementation may be problematic due to non-existent user support. However, as experienced bitcoiners know, Coinbase is a reliable training ground before entering the market independently.
Cryptocurrency Charts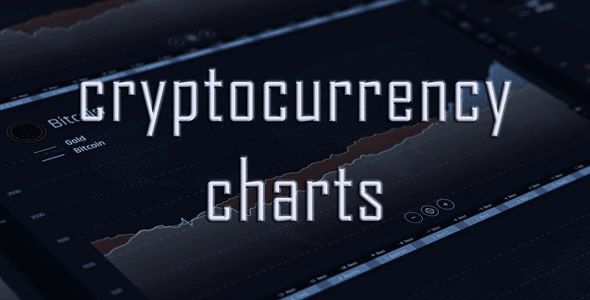 If you want to have an interactive and customizable cryptocurrency chart for your WordPress site, you should choose this plugin. You can create and embed your own crypto marketplace using the Cryptocurrency Charts plugin. Here you can simply sketch out the exact chart you want to get right from the WordPress admin panel. And then you can also add it to any page or blog post by simply copying and pasting the code directly into your chosen section.
There are more than 6000 cryptocurrencies, including but not limited to Bitcoin, Ethereum, Litecoin, Monero, Ripple, Dogecoin, Dash, Zcash, Waves, and many others. The regular License price is $25, and the Extended License would cost you $150.
Blockonomics

Blockonomics allows you to accept payments directly, bypassing the central wallet of the payment gateway. Initially, the plugin was conceived as a completely decentralized system that does not need intermediaries. It allows you to save on commissions — a great option for those who do not need the services of banks. The transaction fee is 1%, the first 10 transactions are free of charge.  This plugin accepts Bitcoin (BTC) and Bitcoin Cash (BCH) as well as all major fiat currencies.
BitPay

BitPay – for merchants who need automatic conversion to regular money. BitPay is the largest Bitcoin payment, service provider. This allows companies, merchants, to accept BTC as payment and at the same time charges them a low commission for processing transactions and converting it to Fiat, unlike most other companies. BitPay has certain restrictions on the products and services offered, especially in risky industries. You can view all incoming payments and have the option to refund orders via your BitPay merchant dashboard.
Note that commissions start from 1% at the very least.
Coingate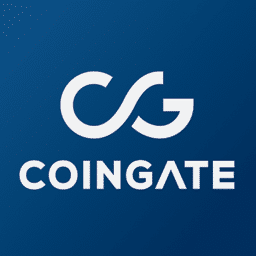 The Coingate plugin is designed for traders and entrepreneurs interested in exchanging cryptocurrencies. The Coingate service does not only accept payments in bitcoins. It also allows you to buy cryptocurrencies directly on the site and exchange bitcoins for euros. The payment amount is calculated using real-time exchange rates. In addition, you can use the Sandbox environment for testing with Tesnet Bitcoin. The transaction fee is limited to 1% and exceeds the corresponding figures in the beta version of the Lightning network.
CoinPayments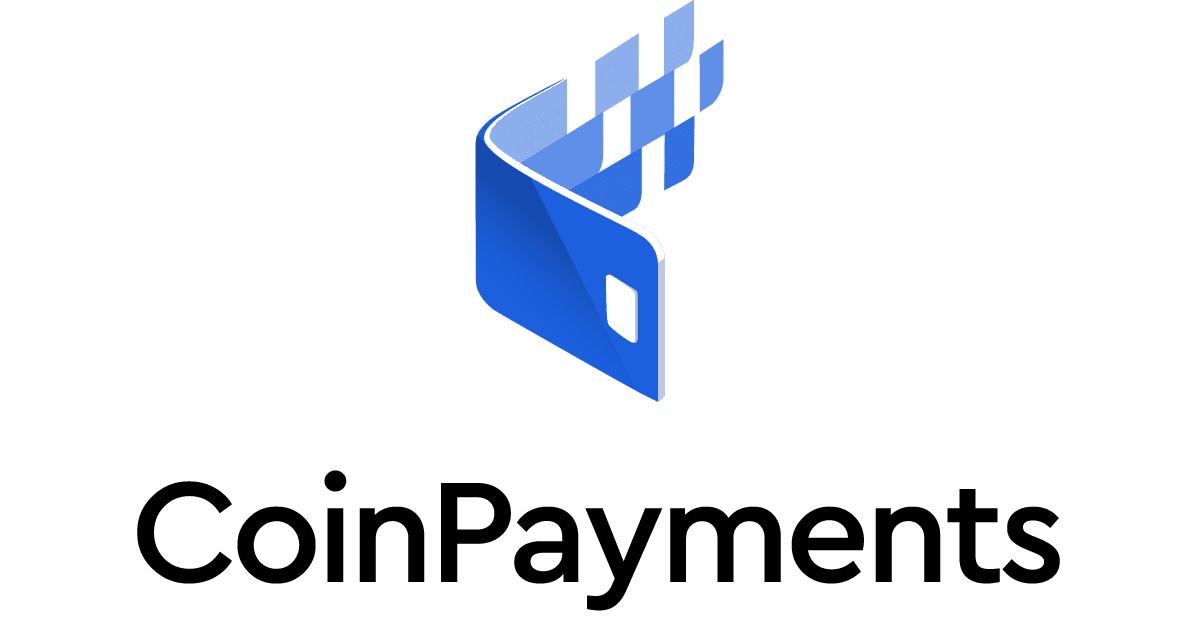 The CoinPayments service is popular with those who are interested not only in bitcoin. Most payment systems accept altcoins through the Shapeshift service, but CoinPayments initially supports ether, litecoin, and more than 800 other cryptocurrencies. The transaction fee is 0.5%. For users from third-world countries, a simple and intuitive interface is offered. Another nice feature of the service is the ability to make payments with zero confirmation using the Woocommerce plugin.
CryptoWP

CryptoWP – Real-time Cryptocurrency Market Prices on WordPress (PRO) is not only one of the most attractive plugins for Bitcoin and cryptocurrency WordPress, but also one of the most reliable. It offers a wide range of ways to display prices in the cryptocurrency market as well as lets developers use CryptoWP's data in custom templates with a single API call.
Main features include:
Comes with three themes and supports native CSS

Notifications and real-time conversions

Real-time cryptocurrency updates

Historical value charts

Fully customizable
Premium Cryptocurrency Widgets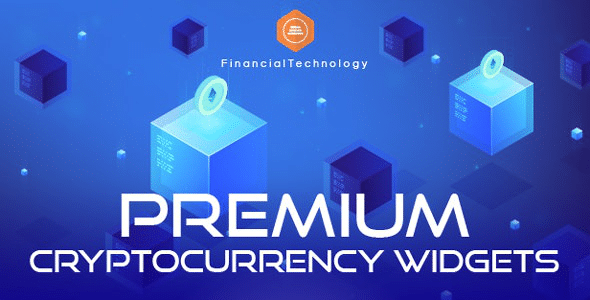 Easily add Bitcoin and cryptocurrency widgets with premium cryptocurrency widgets for WordPress using Premium Cryptocurrency Widgets. With support for over 1,500 cryptocurrencies and real-time updates of major cryptocurrencies without a page refresh, this is one of the best cryptocurrency widget plugins for WordPress.
Widget types include:
Boxtable

Accordion

Leaderss

Sark cards

Running line
The Premium Cryptocurrency Widgets plugin for WordPress includes several color themes and logos for each cryptocurrency.
Fat Coincap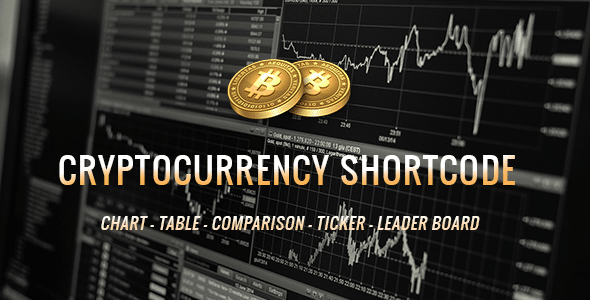 Add the latest information about Bitcoin and 1,300 other cryptocurrencies with a simple shortcode using the FAT Coincap cryptocurrency WordPress plugin. Adding a cryptocurrency chart, table, comparison, ticker, or leaderboard has become very easy with this easy-to-use plugin. Major features include:
Easy to display

Widgets such as boxtable, chart ticker, comparison of leaders

Compare and view history for 1, 7, and 30 days

Supports more than 1,300 cryptocurrencies

Display unlimited charts

Real-time updates

Filter results
Tradex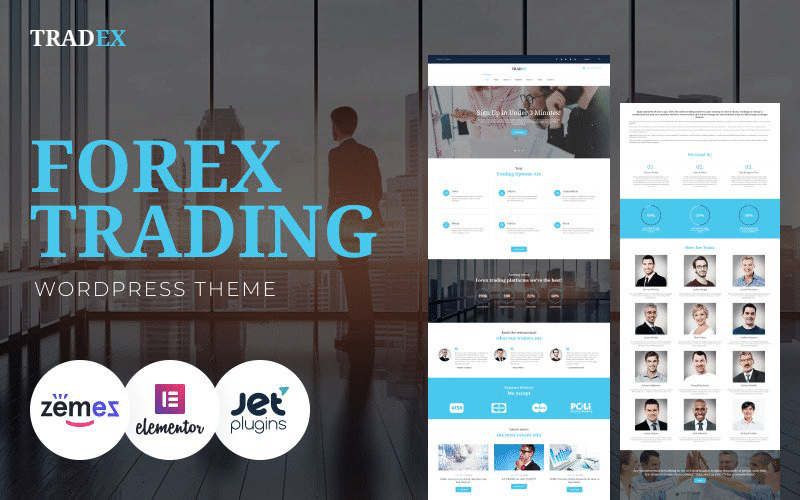 For all the newbie traders who would like to create their own trading platform with WordPress, Tradex is the cryptocurrency tool for a quick start. Instead of hiring a programmer and spending a ridiculous price tag to make it happen, anyone can set and manage a professional cryptocurrency trading platform with a simple tool like Tradex.
Tradex supports over 55 altcoins with a straightforward function of buying and selling. The entire process is fully automated, secure and the transactions proceed instantly. Tradex also can automatically update altcoin information and supports eight different payment methods. Other useful features of the tool are live trade view, coin wallet statistics, unique user dashboard, and deposit log, to name a few.
Cryptoniq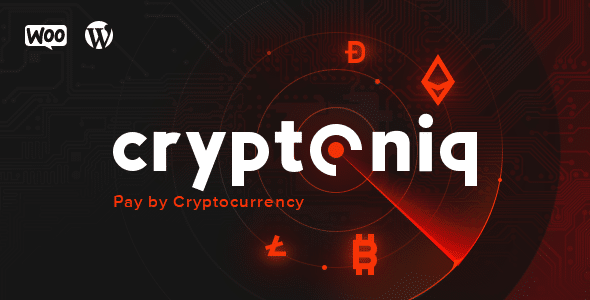 If you are running an online store or pushing any type of products or services on your website as your main or side business, now you can offer your customers to pay with cryptos. If you opt for Cryptoniq, a cryptocurrency WordPress plugin, the integration is going to happen seamlessly for you. Cryptoniq supports four of the most popular cryptocurrencies, like Bitcoin (BTC), Ethereum (ETH), Tron (TRX), and Dogecoin (DOGE).
What is also quite impressive about Cryptoniq is the fact that there are no 3rd-party service providers dealing between the user and the admin. The payments are processed instantly and transmitted from the buyer straight to the owner without paying any withdrawal fees.
To put it simply, Cryptoniq applies a decentralized payment method. Meaning, all you need to do is to add your wallet address to the plugin's settings and you are ready to start. Right now the plugin offers only six translation versions: English – default, Spanish, Deutsch, Italiano, Russian, and Hindi.
Multi-Currency Crypto Wallet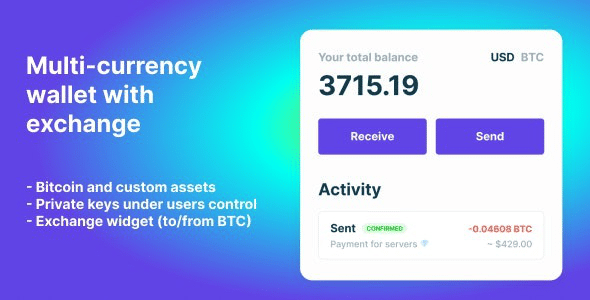 Multi-Currency Crypto Wallet is a simple yet dynamic cryptocurrency WordPress plugin that adds a new layer of influence to your website. The tool supports various assets that one can apply to the wallet without any hassle, from Bitcoin to others. By default, it is the user who has complete control over their coins and other information. For this, they need to have their keys stored locally. Otherwise, they will not be able to operate. This plugin uses the following 3rd party services:
Coin Market Cap Rankings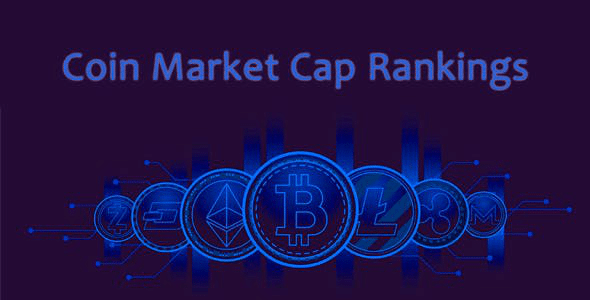 Coin Market Cap Rankings is a cryptocurrency WordPress plugin with real-time cryptocurrency rankings that will greatly interest your site's visitors. With a simple shortcode, you can implement this tool to any WordPress page or post without any trouble. With that, Coin Market Cap Rankings is very user-friendly, perfectly suited for someone who is installing a plugin for the first time as well as for advanced developers.
Core characteristics of Coin Market Cap Rankings include support for over four thousand coins, twenty color schemes, multi-currency, fast performance, and an option to search for coins. The individual coin page displays a description, historical stats, different quotes, and Google trends. If you are looking to spice things up on your website, you can definitely achieve just that with an all-inclusive Coin Market Cap Rankings improving the overall performance of your page.
Coin Market Cap & Prices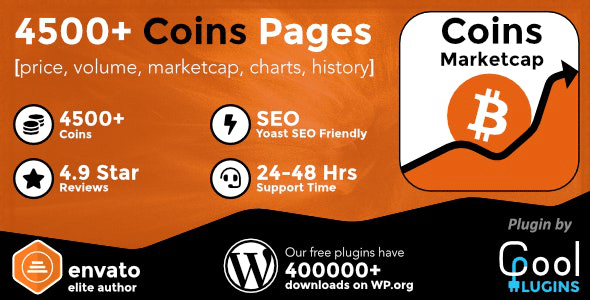 Similar to the previous plugins, Coin Market Cap & Prices is a cryptocurrency WordPress plugin that is used to create a 100% automatized crypto coins price list website. Coin Market Cap & Prices show live prices, percent-based price changes, historic data, 24 hours volume, and, above all, a marketcap. As a bonus, it also displays charts and other useful data. You can potentially push over 1,700 coins on your website without the need to do anything by yourself.
Coin Market Cap & Prices do things automatically to save your time and other precious resources. You can then level cryptos by rankings, prices, volume, and other ranking factors that you find helpful. And at last, each coin also links to a single page which Coin Market Cap & Prices produce by default. You can choose which data to display and allow users to find exactly what they are looking for.
Closing Comments
Nowadays no one can deny the fact that cryptocurrencies lead the future of e-commerce. Blockchain technology has solved many problems like middlemen, delayed transactions, and can replace the traditional banking systems one day. Therefore, getting ready or getting a slight knowledge together with an in-hand experience about the future way of the transaction can be really valuable.
With cryptocurrencies and bitcoins becoming more and more popular, the demand for more bitcoin and cryptocurrency WordPress plugins has increased dramatically. Now you have a list of the best WordPress cryptocurrency plugins that you can simply use to improve and modify your cryptocurrency website.
If the steps above listed in this article do not resolve your issue, please feel free to open a support ticket and we'd be happy to take a look.
---
Get 50% off for 6 months on all Shared Hosting plans.
Our Guiding Principles
Provide consistent, stable, and reliable web hosting services.

Ensure rapid ticket response and quick resolutions to issues.

Never saturate or over-provision servers to ensure stability and speed for our customers.

Use only high-quality enterprise-class hardware to ensure minimal downtime from hardware failures.

Provide clear pricing with no hidden fees or gotchas.