Search Engine Optimization is vital for the success of your website. A good WordPress SEO plugin can make life easier by helping you implement better SEO on your site.
There are many options when it comes to picking the right WordPress SEO plugin for your website or blog. Which one do you choose? Relying on popularity and features can help you narrow down your choices to three major names: The SEO Framework, WordPress SEO by Yoast, and All in One SEO Plugin. There are many other names out there, but these three have become quite popular in the WordPress community. 
In this post, we will be taking a closer look at each of the above options.
Which WordPress SEO Plugin Should You Use?
Yoast SEO
Yoast SEO currently has over 3 million active users, and this number speaks for itself. It is a highly popular and well loved WordPress SEO plugin.
Yoast SEO offers virtually everything that you can expect from a Search Engine Optimization plugin, including the ability to generate sitemaps on the fly, add focus keywords, improve SEO metadata and tags, and a lot more.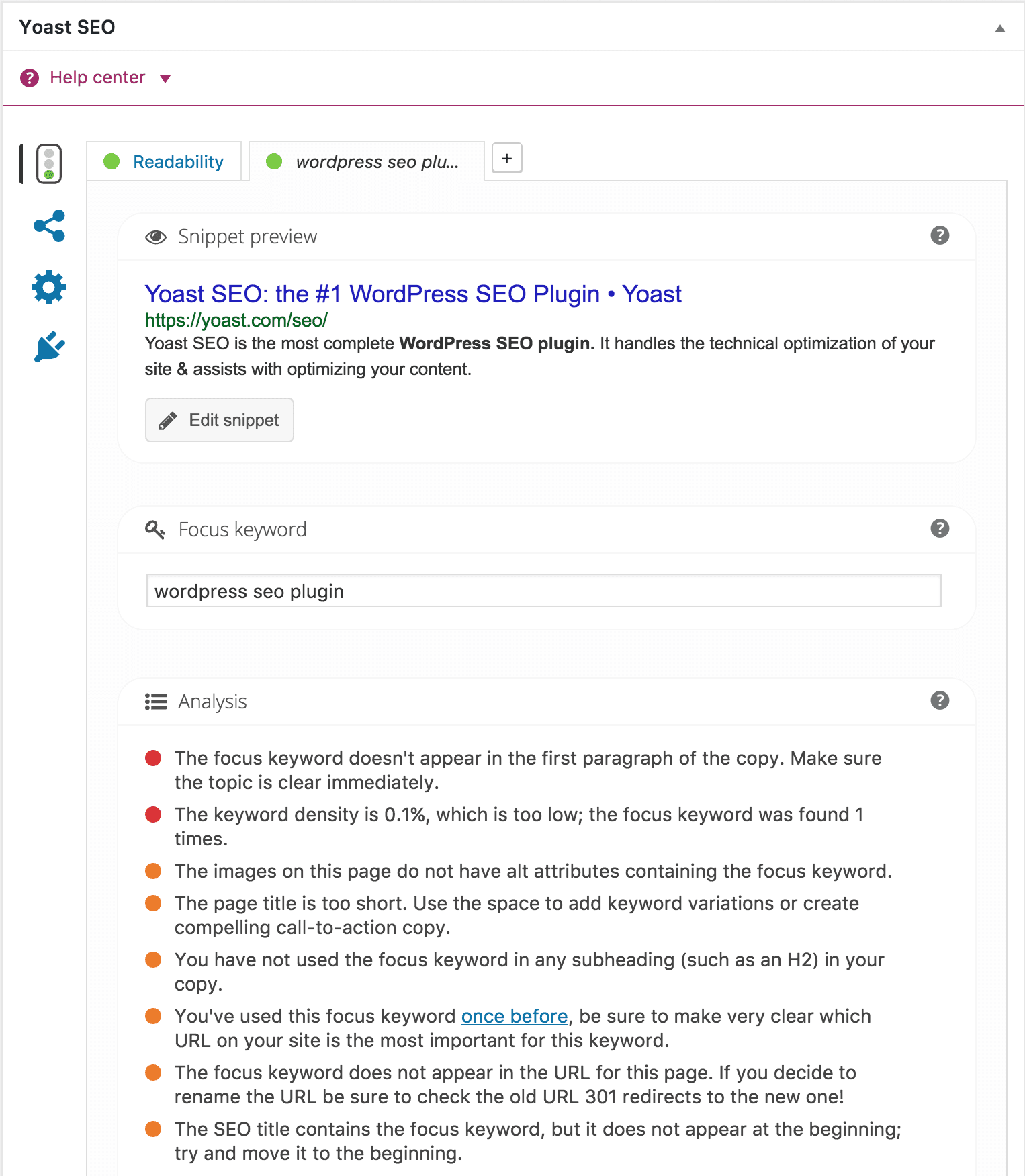 Yoast SEO works by making you add a focus keyword for your content. Thereafter, it evaluates your content on the basis of the focus keyword that you have chosen. Depending on the quality of your content, it suggests optimization tweaks and measures — say, if you have used the focus keyword too little or too many times, you will get a notice about that. Similarly, if your headings are not in order, or if the images do not have alt attributes, Yoast SEO informs you of the same.
All in all, Yoast SEO is fairly easy to work with and it makes the cumbersome task of Search Engine Optimization fairly easy. It integrates well with social networks (adds OpenGraph data for Facebook, Twitter, etc) and also has an addon plugin for Accelerated Mobile Pages (AMP).
All in One SEO Pack
All in One SEO Pack is an equally popular WordPress SEO plugin as Yoast SEO. it can do virtually everything that Yoast SEO has to offer.
All in One SEO Pack can generate sitemaps, add social media metadata to your content, fix titles and meta description for your content, and a lot more. This plugin lets you selectively activate or deactivate modules that you wish to use.
All in One SEO Pack works by analyzing your content and letting you add metadata for search engine consumption. It does not offer detailed ratings and analysis like Yoast SEO. Instead, it lets you specify metadata as per your needs, or it can pick it up automatically and add such info to your posts.
One of the most striking features of this plugin is that even the free version plays very well with eCommerce plugins such as WooCommerce. So you can add SEO data for your products and other elements of your online shop without having to opt for an extension or a premium upgrade. It also offers AMP support and can be used with custom post types and taxonomies as well.
The SEO Framework
The SEO Framework is a relatively lesser known WordPress SEO plugin and it comes nowhere near the other two names in terms of popularity. However, it has carved a niche of its own.
The SEO Framework is equally powerful as the other two big names, but its interface is not that simple. While you can add SEO metadata for your posts and pages, you do not get step by step focus keyword analysis that Yoast SEO has to offer.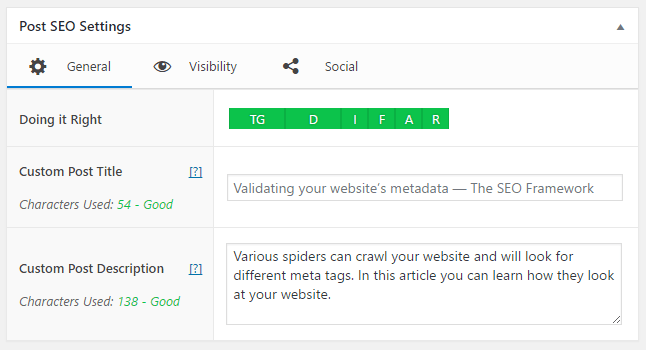 This WordPress SEO plugin is almost unbranded, excluding the plugin's own pages. This mean you will not find annoying popups and notices in the WP admin panel. Naturally, The SEO Framework caters mostly to advanced users who know what they are trying to accomplish. For absolute beginners, this plugin might be the best fit.
The SEO Framework can handle social media OpenGraph data, generate sitemaps, manage structured data, provide canonical URLs, and a lot more for your website. Another smart aspect of this plugin is that it can detect the presence of additional SEO plugins, say a dedicated sitemap plugin, and deactivate its sitemap functionality to prevent conflicts.
Conclusion
So which WordPress SEO plugin should you use? There are many other names out there, but picking either of the above three is a wise choice because:
All of the above mentioned plugins are under active development. This mean you will receive regular updates and support.
They are used by several WordPress users, and therefore have been tested and tried across various platforms.
They can handle virtually all the SEO features by themselves. This way you will not have to rely on multiple plugins, each to generate a sitemap, manage social media metadata, and so on. A single WP plugin can handle them all.
And to answer the question about usage:
You should use Yoast SEO if you need a plugin that can analyze your content and help you write more search engine friendly articles. If you are new to SEO, Yoast SEO can improve your SEO skills by informing you of areas where you are lacking.
All in One SEO Pack is a great plugin in its own, but its interface can be daunting for some users. However, if you are running an eCommerce site or your WP site is rather huge with lots of custom content, All in One SEO Pack can handle it easily.
The SEO Framework is the perfect WordPress SEO plugin if you need a solution that just works out of the box and lets you do your own work. It does not interfere in your content or method of operation — suggestions and interface of this plugin are discrete. It is meant for slightly advanced users who know a thing or two about Search Engine Optimization.
Wish to learn more about SEO with WordPress? Read this post about WP SEO.
Up Next in the Series:
WordPress Optimization Part 8: Which WordPress Caching Plugin Should You Use?
If the steps above listed in this article do not resolve your issue, please feel free to open a support ticket and we'd be happy to take a look.
---
Get 50% off for 6 months on all Shared Hosting plans.
Our Guiding Principles
Provide consistent, stable, and reliable web hosting services.

Ensure rapid ticket response and quick resolutions to issues.

Never saturate or over-provision servers to ensure stability and speed for our customers.

Use only high-quality enterprise-class hardware to ensure minimal downtime from hardware failures.

Provide clear pricing with no hidden fees or gotchas.