In this guide, we will walk you through the steps to create a subdomain in your cPanel account. 
A subdomain can simply be defined as a subsection of your website, based upon a prefix that you wish. For example, if you have a forum on your website examples.com, you can create a subdomain called forum and the address of the forum page would be forum.examples.com. 
You can create a number of subdomains for a website whenever you want to create separate areas in your website. These separate areas can be easily accessible for visitors using separate FQDNs like forum.examples.com, blog.examples.com, support.examples.com, etc. They are easy to create and we will walk you through setting one up now.
Quick steps:
Login to your cPanel.
Go to the Domains section and click on Subdomains.

Enter the Subdomain and Document Root of your choice.

Click on Create button.
Create a Subdomain
Login to your cPanel interface and navigate to Domains > Subdomains.

On the next page, you will be asked to enter the Subdomain prefix of your choice and select the domain to create it under. It will automatically create a folder for your new subdomain in your public_html directory.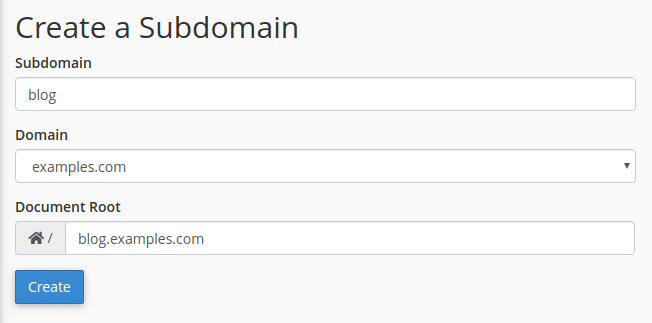 Click on the Create button at the bottom.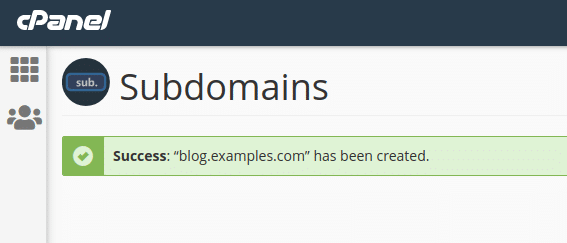 Conclusion
Congratulations! You have learned how to create a Subdomain in your cPanel interface.

---
If the steps above listed in this article do not resolve your issue, please feel free to open a support ticket and we'd be happy to take a look.
---
Our Guiding Principles
Provide consistent, stable, and reliable web hosting services.

Ensure rapid ticket response and quick resolutions to issues.

Never saturate or over-provision servers to ensure stability and speed for our customers.

Use only high-quality enterprise-class hardware to ensure minimal downtime from hardware failures.

Provide clear pricing with no hidden fees or gotchas.