If you are managing a WordPress site, you might have seen your website is showing the "Briefly Unavailable for Scheduled Maintenance" page many times. You may have also experienced that your website got stuck on this page sometimes. As you know, the maintenance page is getting generated by WordPress automatically while it is performing the updates. If the update goes wrong then the website will be stuck with the maintenance page.  In this article, we will discuss how to fix your website if it is stuck with the WordPress maintenance page. 

WordPress maintenance page, an example.
Quick steps:
Login to the cPanel interface.
Select the File Manager option.
Go to the Document Root of your website.
Locate the file .maintenance and delete it. 
Most of the time the maintenance mode will get automatically disabled by WordPress once the update is completed. Sometimes update process may break due to incompatibility of the themes, plugins, etc. In such a situation, WordPress fails to disable the maintenance mode and the site gets stuck on the maintenance page.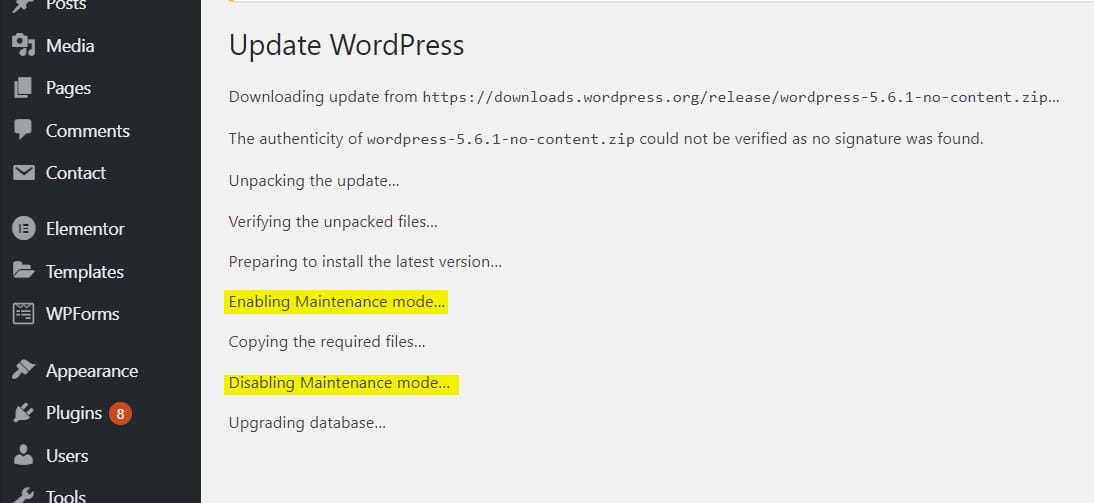 WordPress enabling and disabling the maintenance mode during an update.
WordPress enables the maintenance mode on a website by placing a file called .maintenance. This file will be removed automatically by WordPress once the update process is completed. When the update process fails the .maintenance file stays in the document root and the website will get stuck on the maintenance page.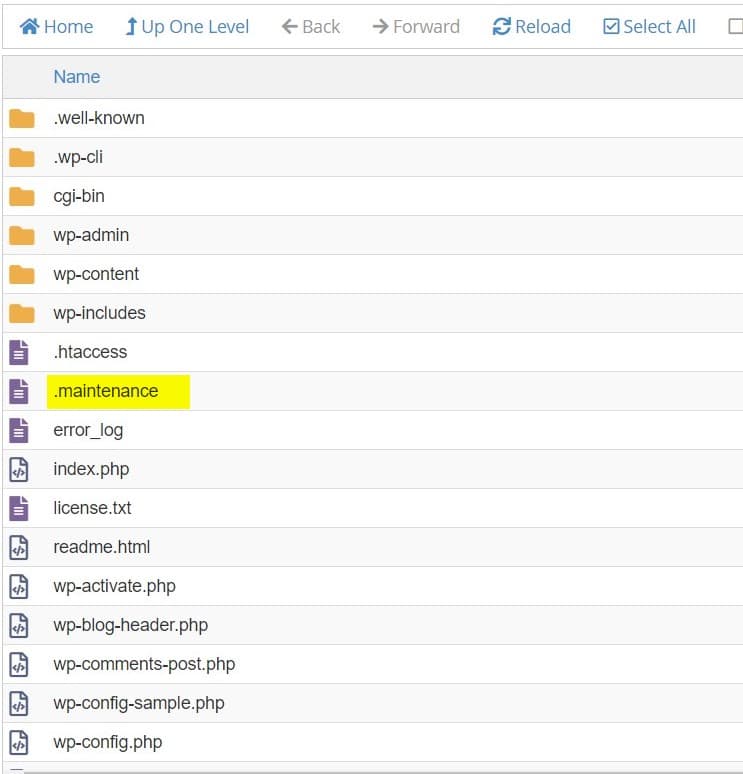 .maintenance file that needs to be removed
For correcting a website that is stuck on the maintenance mode, we need to remove the .maintenance file from the document root. For that go to the File Manager from the cPanel and open the document root where the .maintenance file exists. Delete this file and reload the webpage. You can see that your website is now available once more. 
Please note that in some situations, the website starts to throw errors after removing the maintenance file. In that case, you need to check on the WordPress backend and find the plugin/theme that has failed during the update process. Make sure that the latest version of the theme/plugin is compatible with your website. Then proceed with a manual update of that particular plugin/theme. As always, it is best to perform a backup prior to updating plugins or making other code changes to the website.
Conclusion
Congratulations! You have now learned how to fix the "Briefly Unavailable for Scheduled Maintenance" page in WordPress.
If the steps above listed in this article do not resolve your issue, please feel free to open a support ticket and we'd be happy to take a look.
---
Our Guiding Principles
Provide consistent, stable and reliable web hosting services.

Ensure rapid ticket response and quick resolutions to issues.

Never saturate or over-provision servers to ensure stability and speed for our customers.

Use only high quality enterprise-class hardware to ensure minimal downtime from hardware failures.

Provide clear pricing with no hidden fees or gotchas.